For those in the food and beverage business, they know that complying with FDA as well as USDA requirements is not to be taken lightly. The regulatory requirements are strict and non-compliance can mean the end of one's business. Fortunately, there are technology companies that offer solutions to help f&b operators and distributors meet these standards. Business owners who employ these software solutions ensure the customers – that's us, the public – products that are safe and reliable.
One such company is TGI. TGI has been around since 1990 and is an industry-leading provider of manufacturing and distribution software solutions to small and mid-market manufacturers and distributors. Their flagship product is called Enterprise 21, a fully-integrated business management software solution which they developed, implement and support.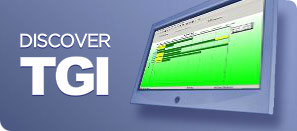 TGI's Enterprise 21 offer f&b companies fully-integrated food ERP software functionality that is designed to meet the ever evolving and expanding industry regulatory and compliance requirements. Enterprise 21 offers comprehensive and configurable food ERP software solutions to enable industry best practices and meet industry standards.
Enterprise 21 controls all the aspects involved in inventory management such as compliance management, bi-directional lot traceability, integrated quality control, and shelf life and expiration date tracking. The food processing software capabilities provides advanced material planning and production scheduling capabilities. And it features RF and barcode-enabled warehouse management system for streamlined warehouse operations and precise lot data recording.
Enterprise 21 is a tightly integrated system covering all possible requirements of a business enterprise including financial management, purchasing, CRM, business intelligence, and order management. All these are available in a comprehensive food processing software solution that operates on a single database, thus eliminating the need for duplicate data entry and improving organization-wide data integrity.
To get more information on TGI and Enterprise 21, give them a call at 1-800-837-0028.
—
This article is copyright © blogwidow.com. Please do not reprint without permission.